Shop
Forever Peace Corps Shirt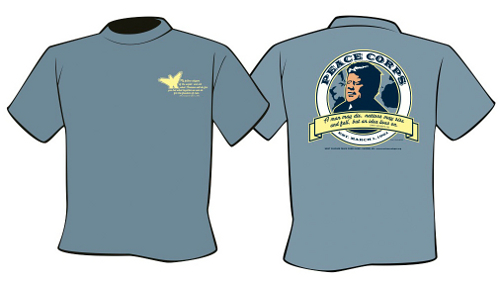 (Click on picture for larger image)
The new "Forever Peace Corps" tee shirts was designed by WCPCA member James Cloutier. They are spring blue, 100% cotton, with a 4-color design.
The front features the West Cascade dove and a quotation from President John Kennedy's inaugural address (1961), "My fellow citizens of the world, ask not what America will do for you but what together we can do for the freedom of man." The back shows a colorful graphic of JFK against the background of a world map, the Peace Corps name, and the following quotation (1963), "A man may die, nations may rise and fall, but an idea lives on."
The total profit from shirt sales will fund humanitarian projects. One shirt is $20 plus $3 for mailing. The wholesale price for a dozen or more shirts is $16 per shirt plus $16 per box for mailing. For more information, email info@westcascadepca.org and write "tee shirts" in the subject line.