West Cascade Peace Corps Association
Our Next Event
DISCUSSION GROUP. Thursday, May 23rd, 2013, 6:30 PM - 8:00 PM

The WCPCA discussion group meets once or twice a month to talk about current events, politics, travels, the color of Felicia's hair, and other topics that interest us. All are welcome! New Day Bakery, 449 Blair, Eugene.
2013 Calendars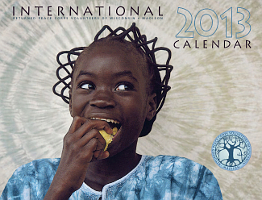 Once again, WCPCA is selling international calendars published by the Madison, WI RPCV group. With photos from current and former Peace Corps host countries and day by day listings of holidays from countries and cultures throughout the world, the calendar is a work of art and a resource that celebrates ties of friendship created by Peace Corps service.
Proceeds from these sales help fund humanitarian projects. Click here to see a list of funded projects. For more information about calendar sales, please visit the Shop page.
---
The West Cascade Peace Corps Association, in conjunction with the National Peace Corps Association, supports the work of world peace, well-being and understanding and furthermore strives to actively fulfill the Peace Corps third Goal of "bring the world back home."
from the West Cascade Mission Statement